About My Life Without Limits:
United Cerebral Palsy welcomes you to My Life Without Limits (MLWL), the go-to site for individuals with disabilities. In addition to news and resources, you'll find ways to connect, ask questions, exchange advice and share information among people with a range of disabilities.
Oftentimes, the best tips for an individual with a disability comes from others who have been there, done the same thing, or are going through a similar experience. MLWL is community-driven, with people with disabilities steering the content. We believe there is a deep and unique connection that comes with communicating with others who have disabilities. MLWL explores topics important to people with disabilities, such as health and wellness, relationships, education, traveling and more.
As UCP's My Child Without Limits (MCWL) program is a resource for parents and families of those with disabilities, MLWL is a resource for individuals with disabilities. We hope you will join us and share your thoughts and opinions. Tell us what you think of the resources here and let us know if you find new ones. Use the #MyLifeWithoutLimits hashtag on social media to connect with us! Ask questions, become a guest blogger or share meetups and events with UCP and each other. Thanks for stopping by and we look forward to getting to know you!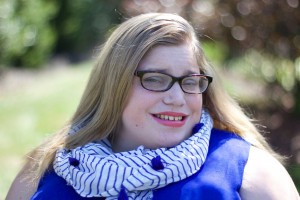 Karin Hitselberger
UCP's Public Education Associate
Blogger, fashionista, and grad student
Proud "Ceep" (spastic quadriplegia)
Big fan of the UK
Can't live without:  my phone,  lipstick, Netflix, my Adidas, chai tea lattes, and of course, my power chair!
"Some of the most transformative moments in my life were when I met other people with disabilities who shared my experiences. My meetings with these people often started over the Internet. My disability community means the world to me, and I don't know what I would do without them. I want everyone who comes to My Life Without Limits to find the community that has been so important to me in my life. We want MLWL to be a community where people can come to share stories and experiences about life with a disability, including stories that are for adults only, because the truth is those stories matter too, and we need to have a space to talk about all the important issues in our lives. We want to welcome you to this community, because that's what it's meant to be, a community where you can come share and learn from each other. I'm so excited to get to know you all, and I hope MLWL can be the community you are looking for." – Karin Hitselberger, UCP
UCP's other programs