UCP recently had the pleasure of meeting filmmaker, Leopoldine Huyghues Despointes, who is aiming to help raise awareness about [dis]abilities through her and artist, JR's [dis]ABLED InsideOut project, beginning later this May in New York City.
InsideOut is a large-scale participatory art project that transforms messages of personal identity into pieces of public artistic work. It's a collaboration between JR and you!
Each InsideOut group action around the world is documented, archived and exhibited online. Nearly 200,000 people from more than 112 countries & territories have participated.
The [dis]ABLED InsideOut project was born through the collaboration of JR and Despointes. They aim to raise awareness and change the world's perception of people with physical [dis]abilities. It is about inspiring everyone to pursue their own dreams.
On May 30th in New York City, they will have their first "Gathering Day," where they expect to take 400 portraits of people with [dis]abilities. After multiple Gathering Days, they aim to collect over 3,000 portraits. In October, they will have a grand event, where the portraits will be publicly displayed on the sidewalks of New York City.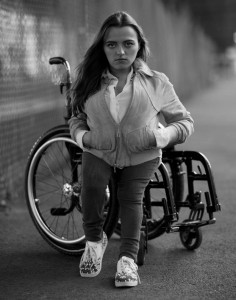 "In my opinion, films, photography, and art in general have the strongest power to make things evolve," says Despointes. "As a filmmaker, my job is to dream and to make people dream, but also to stand up for what is right. I experience life on wheels, which allows me to understand the struggle. People with disabilities are sometimes seen differently, but we all are humans. In that matter, I felt the need to do a big action. JR's InsideOut project is so powerful that I really wanted to join forces, and stand up for the cause. I am blessed to be able to work with the best team. They all believe that gathering portraits, and creating a work of public art can have a meaningful impact. Hopefully we can call for a change!"
The first Gathering Day will be held in New York City on May 30th!
Sign up here: http://goo.gl/forms/N17RUOYV6A
Brookfield Place
230 Vesey St.
New York, NY 10281
11am – 7pm
Find out more about us and the movement 
Tumblr: disabledinsideout.tumblr.com
Facebook: facebook.com/disabledinsideout
Instagram: @disabledinsideout
Email: disabledinsideout@gmail.com
#disabled #disabledinsideout