Guest blog post by UCP National's 2015 summer interns, Matt Golden (Public Education & Outreach), Elsie Guerrero (Public Policy), Jessie Rihani (Communications/STEPtember), Jerry Robinson (Life Labs) and Alex Vesey (Development).
Last month, we had the opportunity to visit UCP of Delaware. UCP seeks to support a life without limits for individuals with a range of disabilities. Working at UCP National, we usually don't see how our services are implemented at the local level. We didn't want to conclude our internships without this experience because client services are so vital to what UCP does. It's not often that we interact on a personal level with the individuals we serve. Our trip to Delaware allowed us to see an example of how an affiliate translates the mission into strategic and practical action. The day began with a tour, given to us by Kennedy, a gregarious young camper of the affiliate's summer camp. There was a pool, playground and indoor recreation area, where the children seemed to have the time of their lives.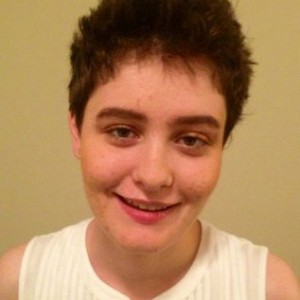 Alex: "They have a fully wheelchair-accessible pool designed for kids of all abilities. Watching the children play in the clear blue water, I was thrilled that this was available for kids who wouldn't usually be able to swim in a pool with other children. Also, it was sweltering hot and we were all standing outside the pool fence in business casual attire, so I would have been thrilled to jump in right there."
After the tour, we, along with some other staff at UCP National sat down with UCP of Delaware's staff and discussed the affiliate's endeavors. The two major programs that we learned about were Camp Manito and their Client Assistance Program (CAP). Camp Manito has been around for 60 years. It provides an opportunity for children with and without disabilities to interact and learn from one another.  

Jessie: "It was really interesting to learn about this and see how their work differs from our work at UCP National."
The staff told us about their passion for providing housing for people with disabilities. They have renovated several wheelchair-accessible houses throughout Delaware and cater to the needs of people with disabilities. Sarah Kyger, UCP's Special Events Associate gave a brief presentation about STEPtember over lunch. Then, we all engaged in a Q&A session with Bill McCool, the Executive Director of UCP of Delaware. Bill has been with UCP for over 30 years and has a real passion for helping people with disabilities.

Matt: "I found Bill's conversation extremely interesting because it is not often we see UCP's mission so directly in action. He talked about the intricacies of running a nonprofit organization. Bill pointed out the famous "no money, no mission" quote, explaining how it is essential for nonprofits to raise money. Additionally, he touched on the realities of running a summer camp, including some of the challenges that campers with attention deficit/hyperactivity disorder (ADHD), autism and/or other intellectual and developmental disabilities experience."
Jerry: "Bill explained the nuts and bolts of running a nonprofit entity, as well as the importance of financial stewardship in the nonprofit world. I was impressed by UCP of Delaware's entrepreneurial approach to funding their operations. Before our trip, I assumed that UCP affiliate operations were funded by donations only. I learned that affiliates use some of the same entrepreneurial strategies that individuals and businesses use to pay their expenses and avoid debt."
After this discussion, we had the opportunity to interact with the campers. Some of us played catch with the kids, others made necklaces with them and a few of us simply just sat and chatted with them.
Elsie: "My favorite part of the trip was playing with the children. They were wonderful and so outgoing. They were not afraid to talk to me; instead, they asked me to join them. I also like the inclusive engagement between children with and without disabilities."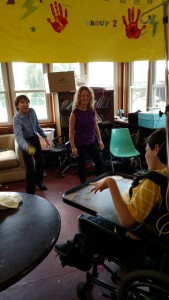 Matt: "I had a good time playing catch with one of the campers."
Jessie: "Jessica, one of the campers, made me a necklace. She said she wanted to because we (almost) have the same name. It was so fun sitting down and making jewelry with her!"
Afterwards, Bill took us to see one of the apartment buildings they have renovated for people with disabilities. One of the tenants, gave us a tour of his apartment. He explained to us how the unit accommodates his needs as a person who uses a wheelchair. There were many accessibility features, including wider doors and wheel-in shower.
Elsie: "Visiting one of the tenant's home was amazing! He had a beautiful apartment! Seeing the smile on his face was priceless. I know in my heart that he was happy with his home, especially since he has been living there for three years. I hope many more people with disabilities can have the opportunity to have their own home one day just like him. UCP of Delaware is trying to make that possible and I love it!"
Jerry: "One of my highlights of the trip was visiting the Garrett House residential housing community. It was great to see how UCP affiliates support individuals with disabilities specifically. During our morning discussion with Bill, we heard about what UCP Delaware is doing to help individuals with disabilities secure accessible and affordable housing. In the afternoon, we visited one of the housing communities the affiliate owns and manages. A tenant who lives in Garrett House invited us into his unit. He gave us a tour and told us how the design of the apartment enables him to live independently. The Garrett House visit allowed us to see a side of UCP that was hard to envision from our desks at the national office."
After the full tour of the apartment complex, we headed home. It was an eventful day for all of us, full of new information and eye-opening experiences. It was a great opportunity to connect on a personal level with the people that UCP supports. A big thank you to UCP of Delaware for welcoming us to visit!