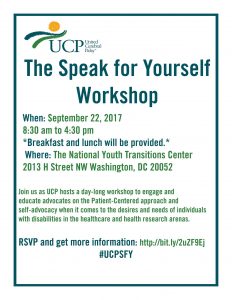 UCP's Speak for Yourself Workshop – September 22, 2017 in Washington, DC! 
Join us Friday, 
September 22,
 as UCP, as part of our "Speak for Yourself" initiative, hosts a day-long workshop in Washington, DC to engage and educate advocates on the Patient-Centered approach and self-advocacy when it comes to the desires and needs of individuals with disabilities in the health care and health research spaces.
When: September 22, 2017 from 8:30 am to 4:30 pm
Who: This event is free and open to program and policy professionals, as well as anyone interested in learning more.
*Breakfast and Lunch will be provided*
This is a free event, but we please ask that you RSVP. 
This event is fragrance free. 
ASL interpretation and CART will be provided.
Watch the LIVE STREAM on 9/22! 
Should you have additional accommodation needs or questions, please contact Kaitlyn Meuser at kmeuser@ucp.org or Randi Moore at Randi.Moore.Bailey@gmail.com.


This project was funded through a Patient-Centered Outcomes Research Institute (PCORI) Eugene Washington PCORI Engagement Award.