World CP Day – October 7, 2015
Join United Cerebral Palsy by putting yourself on the map for World CP Day. On October 7, we will tell the world that WE ARE HERE.
Cerebral Palsy is one of the most misunderstood physical disabilities, and very often, the voices of those with CP are not heard and their stories remain untold. Help to build the global CP community and join the movement by sharing your story. Tell the world "I AM HERE, and I want you to know… " to help bring awareness to Cerebral Palsy and connect with others across the globe.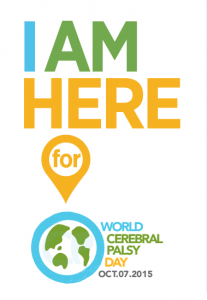 Visit the World CP Day website for more information about how to add yourself to the map. The interactive site will tell you how how to add yourself to the map, offer steps and ideas for helping to build a movement and a complete toolkit of materials you can use to spread the word.