The following blog was written by two UCP volunteers and major soccer fans based on their experiences with the soccer stadiums they have visited. To obtain information for their informal rankings, they surveyed stadium websites and made calls to verify information. However, the rankings are based on their opinions and UCP welcomes any information that might lead us to revise the rankings. If you have visited one of these stadiums and have a different take on the accessibility it offers, please log in to our forum and let's discuss!
One of the fastest growing sports in America is football, or as we Yanks like to call it, soccer. With the final of the last World Cup drawing a record-breaking 26 million viewers in the United States (U.S.), it is clear that soccer is on the rise. Accordingly, attendances at Major League Soccer (MLS) matches have risen as well. Whether you are like us and stand in the Barra Brava supporters section (D.C. United's most enthusiastic fans)  at RFK Stadium or prefer sitting in a more neutral environment, going to a soccer game is exciting and enjoyable. However, for people with disabilities, sports stadiums and soccer venues can pose one huge problem: Accessibility.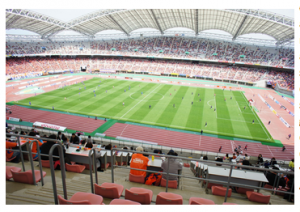 Most MLS stadiums were built before 2010, and some, such as Providence Park in Portland, Oregon, as early as the 1920s. Many modern accessibility standards expected in other facilities have yet to be introduced to soccer stadiums. However, quite a few MLS franchises are implementing changes to make their stadiums as accessible as possible.
Here's our list of the most accessible stadiums for people with disabilities along with those which may need to make some improvement. With UCP's Accessibility Power Rankings, we hope to encourage people with disabilities to support their local teams; or, if their stadium is not the easiest to navigate, to take action in their communities to make it more accessible.
To come up with the Power Rankings, we used an algorithm developed with our colleagues at UCP National and other friends with disabilities to measure what features in a stadium will maximize accessibility, such as ramps or seating options for people with disabilities.  We called the front offices of the stadiums or referred to online stadium guides to determine which stadiums offered which features on our list. We hope you find this helpful and encourage you to support your local team!
Click here for a complete list of stadiums and their rankings!
In conclusion, we can see that around half of the stadiums had ratings of 85 or higher, which means that the MLS definitely has some high-accessibility stadiums out there; furthermore, every single MLS stadium does have an elevator in compliance with ADA regulations, meaning that every level of the stadium can be accessed. Now, there is still some definite work to be done to improve the accessibility of some stadiums. Nevertheless, we encourage you to go and support a team near you knowing that you will be able to enjoy the full extent of the game and stadium atmosphere.